Chisasibi Community Dialog on Knowledge Transmission and Opportunities for Supportive Learning Environments
ᐱᔨᔅᑯᑎᒫᐦᑯᓈᐱᒋᓈᓂᐆ
Piiskuutamakuunipiijuu
Piiskuutamakuunipiijuu, meaning 'breaking trails through the snow', was a word that the elders chose to give meaning to the community dialog. The action of breaking trails through the snow, implies specific knowledge of the land, setting a goal and planning carefully in advance, as well as the act of working hard (perseverance) in attaining the desired result. The end goal of this embodied work, the trail, also implies leaving a roadmap for others to follow.
Piiskuutamakuunipiijuu, illustrates the process of learning and passing on knowledge intergenerationally. Schooling or education, is not something that happens only in the classroom. Families and communities are as much a part of any child's success in their journey to life-long learning as the teachers and the schools. In some ways, parents and community members have a much more active role in supporting young people in achieving educational and life goals, by creating safe and engaging learning environments, inspiring a sense of belonging and positive cultural identity, and strengthening intergenerational bonds and knowledge transmission.
Introduction
The Chisasibi Community Dialog on Knowledge Transmission and Opportunities for Supportive Learning Environments, took place at the Elders' Camp on July 30 and 31st 2019. The activity was a collaboration between the Kapakan Alliance, the Cree Nation of Chisasibi, Inshiyuu Miyuupimatisiuun (Chisasibi Wellness), and the Chisasibi Heritage and Cultural Centre (CHCC). It took place following the Interactive Forum on Knowledge, the first event that launched the Kapakan Alliance, which was held at the Kinawit cultural camp in Val d'Or from 22 to 24 of July 2019.
A first meeting to brainstorm the organization of the activity and present the project to Chief and Council took place on March 18 to 20, 2019. Deputy Chief Daisy House met with the organizing group which included: Eddie Pash, Larry House (Inshiyuu Miyuupimatisiuun), Roy Neacappo (Recreation Department), and Ioana Radu and Laurence Desmarais (Kapakan Alliance). Larry House was mandated to organize the community dialog and worked in close collaboration with Beverly Cox (CHCC).
The objective of the two-day Community Dialog on Knowledge Transmission was to gather a group of interested community members to reflect on the elements of a culturally meaningful learning approach in Chisasibi and identify Iiyuu values that support individuals on their learning journeys. Some questions that were explored included:
What types of skills and knowledge should a young person develop in their daily life that supports their educational goals?
How can community elders contribute to the transmission of Iiyuu values? What kind of supports do elders need to successfully undertake this role?
What kind of alternative learning opportunities can be developed in the community?
How can young people be inspired to engage in community life and aspire to give back?
The following community members participated during the two-day dialog: Debbie House Cox, Josie Cox, Eddie Pash, Larry House, Beverly Cox, Emily Sam, Eric House, Irene Bearskin House, Roy Neacappo, and Trevor Allen Stewart; with guests Flora Weistche and Jordan Bear.
It's important that we protect the environment and integrate our knowledge into our education and our places of schooling in order to validate the systems that have ensured our survival up until this day.

Larry House
Community educational context
The Cree Nation of Chisasibi is the largest of the ten Cree communities in Eeyou Istchee with a total population of 4723 in 2018 (ISC, 2018). Formerly located on Fort George Island, the community was displaced in the early 1980 to its current location (some 10 km inland) due to potential erosion from the La Grande hydroelectric project. Between 1933 and 1979, there were two residential schools on Fort George Island: St. Philip's Indian Residential School (Anglican) which operated between 1933 and 1979 and the St. Joseph's Mission (Catholic) which operated between 1936 and 1952. For a short period between 1975 and 1978 the non-denominational hostels housed Cree students on the island. In total is approximated that more than 600 Cree students attended the residential schools on the island. Today, in Chisasibi there is one elementary school and one high school.
Regional context
The closing of the residential schools came on the heels of the signing of the James Bay and Northern Quebec Agreement (JBNQA) in 1975. Among many measures, the JBNQA established the first Indigenous education board in Canada, the Cree School Board (in Nunavik the Agreement also established the first Inuit school board, Kativik Ilisarniliriniq). The Cree School Board (CSB) purpose is to serve the Cree living in Eeyou Istchee and to empower them to take control of their own education system as well as to protect Cree language, culture, and traditional pursuits. Its mission is to "To provide for life-long learning while instilling the Cree identity in partnership with our communities to allow each student to attain the qualifications and competencies to become a successful contributor to the Cree Nation and society at large" (CSB, 2019).
In 2019, the Cree Nation passed the Act respecting the Cree language of Eeyou Istchee which responds to a variety of national and international provisions such as the United Nations Declaration on the Rights of Indigenous Peoples and the Truth and Reconciliation Commission of Canada Calls for Action. The purpose of the Act is to "support and promote the use of the Cree language" and "support Cree efforts to reclaim, revitalize, maintain and strengthen the Cree language". The Act will establish a framework to facilitate exercise of Cree rights related to language, establish measures for long-term funding, and facilitate cooperation with provincial and federal governments in terms of retention, reclamation and revitalization of Iyiyuu-Ayimuwin. Finally, section 5.f is designed to "advance the achievement of the objectives of the United Nations Declaration on the Rights of Indigenous Peoples and other relevant international human rights law, as they relate to the Cree language"
Cree Nation Government, 2019.
In 2019, the CSB employed 441 teachers and had 5886 enrolled students, of which 680 in adult education and 511 in post-secondary institutions. There are 16 schools in Eeyou Istchee. Depending on the size of the community, there are either separate elementary and secondary schools, or mixed level schools. The CSB also manages the Sabtuan Regional Vocational Training Centre (SRVT) located in Waswanipi which offers general adult education and vocational programs. The SRVT also offers student residencies and meal programs. Since its opening in 2005, over 700 students have graduated the various programs. Finally, the CSB offers Post-secondary student services, including financial assistance to full-time, part-time and correspondence programs, in addition to coordination, guidance and orientation services.
According to the 2016-2017 Annual Report the total student population for Pre-k, elementary and secondary levels was 4463 students, of which 2306 were male and 2157 were female. There were 249 special needs students. For these levels the graduation rates were variable: 11.1% for 2014/15, 9.4% for 2015/16, and 10.8% for 2016/17. For adult education (including vocational training) there were 786 students enrolled, with 404 males and 382 females. For the 2016-2017 period there were 634 students enrolled in post-secondary education, of which more than half were female (391). Of these 479 were enrolled in college, 112 in university and 43 in vocational training (outside of the SRVT). For the same period there were a total of 59 post-secondary graduates (CSB, 2017). The Cree School Board has gone through major restructuring in view of increasing graduation rates and devising language retention programs. In 2007 the Communication, Accountability & Follow-Up for School Improvement (CAFSI) study proposed 115 recommendations that aimed first and foremost to change the institutional culture and establishing a student-centered approach (Lévesque et al., 2015). In 2010, the Guaranteed and Viable Curriculum (GVC) began to be implemented in view of responding to the CAFSI recommendations. The 2016-2021 Strategic Plan focuses on four priority areas: educational success; student, parent and community engagement; staff professional development; and effective organizational behavior. For the elementary and secondary levels, the CSB has implemented various programs that support retention and graduation rates such as: Empower™ Reading literacy programs; the interdisciplinary arts program Mikw Chiyâm; afterschool and leadership activities with Youth Fusion; and various culture-based initiatives in selected schools that are meant to complement the Cree Culture and Language Classes (CSB, 2016).
Chisasibi educational and knowledge transmission landscape
In terms of formal education, the Waapinichikush Elementary School provides instruction in Cree, English and French. In 2020, there are 788 students enrolled with 350 in English section and 269 in French section. Apart from the formal instruction the school offers by-weekly Elders in School program which encourages students to engage in cultural knowledge transmission, as well as land-based learning with organized group outings (CSB, 2020). The James Bay Eeyou School (JBES) provides secondary 1 to 5 education to 494 students (in 2020). Between 2016 and 2017, the graduation rate improved from 33% to 39%, while absenteeism rate was 2.7% higher in 2016 at 25% overall (CSB, 2016 & 2017). Since 2016, JBES has offered Mikw Chiyam programming, and since 2014 it has developed a community greenhouse project in collaboration with the local Nihtaauchin Chisasibi Center for Sustainability.
The Chisasibi Greenhouse
The greenhouse project is now run under the Work-Oriented Training Pathway (WOTP) an initiative supported by the Ministère de l'Éducation et Enseignement supérieur (MEES), which supports students in the workforce on a two to three day a week schedule. Upon successful completion, participants receive a Prework Training Certificate from the MEES. As a collaborative project the greenhouse operations are shared between JBES and Nihtaauchin, where, during the school year secondary IV and V students prepare the seeding and planting for each season under the supervision of the local science teacher, and during the summer Nihtaauchin supervises Summer Student Employment Program participants who oversee the daily operations and harvesting and distribution of crops. Every summer Nihtaauchin organizes gardening and greenhouse workshops with youth and community members at large. Among other initiatives such as composting and a potato field on Fort George Island, Nihtaauchin runs an Elders-Youth project that focuses on designing northern agricultural methods using Cree knowledge and traditional dwelling techniques. Its intergenerational knowledge transfer outcomes include increase knowledge of local flora and building techniques for the youth, while increasing awareness among the elders in terms of potential for northern agriculture in Chisasibi (NCCS, 2020).
The history of the Fort George residential schools' gardens was a topic of discussion during a three-year research project with Center for agricultural innovation at Victoriaville. The project has increased awareness of northern agriculture in the community, including an assessment of the traditional and market-based food systems. The Chisasibi Heritage and Cultural Centre, was a collaborator on the project and helped gather historical information about Fort George Island and its gardens.
The Chisasibi Heritage and Cultural Centre
The Chisasibi Heritage and Cultural Centre's (CHCC) mission is to "protect, preserve, collect, research and exhibit our history, heritage, culture, language, oral traditional teaching, customs and values of Iyiyiyuuch and Inuit of Chisasibi" (CNC, 2020). Part of the Aanischaaukamikw Cree Cultural Institute network, CHCC provides exhibitions and cultural programming in the community. Working in close collaboration with community elders and knowledge holders CHCC holds a variety of cultural, language and history activities throughout the year such as school visits, the yearly Mamoweedow gathering on Fort George Island, storytelling sessions in the fall, and on-land traditional activities. One of the most recent projects included the inauguration of the Upichiwin Heritage Site, a collaboration with Hydro-Quebec, that commemorates an important gathering and fishing site downstream from the LG-1 reservoir. The belvedere includes interpretative panels about the site which were developed with local elders and land users. An ongoing project inspired by this work is the Place Names project which documents Cree toponyms in the traditional family territories of Chisasibi (CHCC, 2020).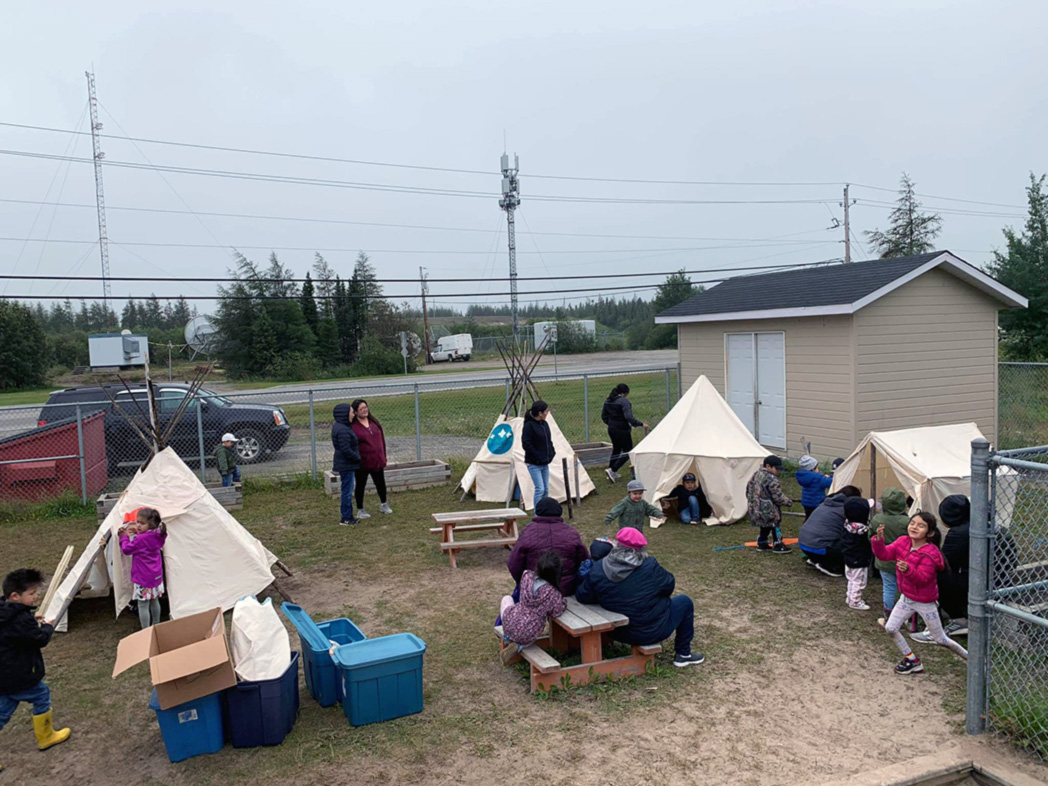 For CHCC intergenerational knowledge transfer is key to maintaining cultural continuity and strengthen identity and language. As such, the majority of activities are geared toward this goal by organizing events where elders and young people learn from one another. Some of these activities include Children's Village which takes place on-site at the local day care and reproduces village life geared for very young children. Many workshops with high school and elementary students are held at the Centre including beading, language, and traditional games, in addition to the permanent and temporary exhibitions. Sessions on Chisasibi and Eeyou History are regularly organized with local teachers and healthcare professionals (CHCC, 2020).
At the Elders camp CHCC hosts hands-on workshops with community members and high school students. Among these there are workshops on caribou hunting and food preparation, traditional rattle making and tepee teachings. An important event, Culture Week, is organized every March as a public event in the community in collaboration with Inshiyuu Miyuupimatisiuun and can host approximately 300 people.
Inshiyuu Miyuupimatisiuun
Inshiyuu Miyuupimatisiuun is a non-for profit, grassroots organization created in 2017, which provides culture-based wellness services in Chisasibi. It was initially developed as a Mental Wellness Team under Health Canada programs and is in operation since 2014. Inshiyuu Miyuupimatisiuun developed a land-based healing model that focused on intergenerational knowledge transfer and employed Cree caring and healing approaches. In addition to this program, Inshiyuu Miyuupimatisiuun focuses on community-driven and culture-based activities that provide a variety of wellness related services such as addressing food security, pre- and post-natal workshops, an annual healing gathering, rites of passage, and life-skills training. All of its activities are designed and delivered with community elders and knowledge holders.
Part of this programming included organizing, in collaboration with the Chisasibi Heritage and Cultural Centre, a Culture Week activity, which consisted in setting up a Waashaaukimikw (lodge) in the community centre, next to James Bay Eeyou School. The activities included season-specific rites of passage, medicine, storytelling, and traditional food preparation as developed and delivered by local elders. The first such activity took place in March 2017, and was a great success (Wapachee, 2017; CMWT, 2017). The activities were open to the community as a whole, while also focusing on building Cree knowledge among young parents and young people. A second edition of the lodge was hosted in October 7 to 20, 2019 at the high ground (a site 10 km away from the community).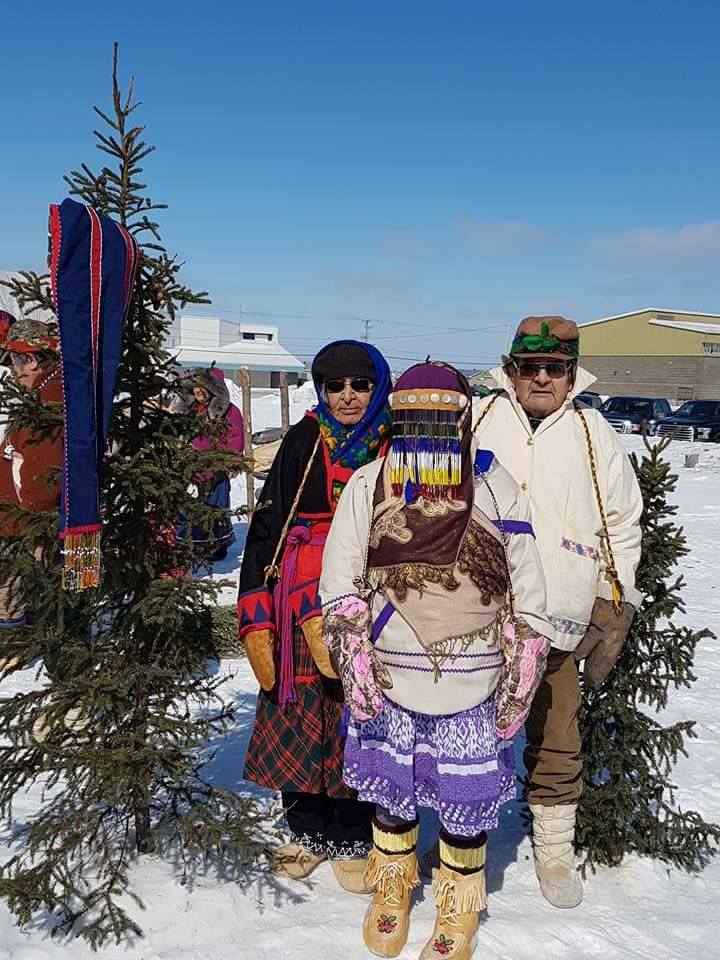 Inshiyuu Miyuupimatisiuun was the main collaborator for the first Kuukuminuwich Gathering, a project initiated by the Cree Women of Eeyou Istchee Association, that focuses on empowering Eeyou women through intergenerational knowledge transfer. More recently, Inshiyuu Miyuupimatisiuun received seed funding from the Cree Nation Government to set up a community kitchen which will focus on supporting low-income families in harvesting activities and delivering traditional food preparation workshops for young parents.
Why hold a community dialog on learning?
While the Cree School Board continues to focus on creating a viable curriculum and improving its institutional culture, in Chisasibi, community members are continuing to take responsibility for intergenerational knowledge transmission. Awareness of the negative impacts of the residential school system, combined with a concern for the passing of elders, has mobilized grass-roots organizations to innovate and provide supports for life-long learning.
There's a disconnection from the culture and the land because we live in our own little houses and before we used to live all in the same house and all the adults would teach the children. We have to adapt to these changes and make these situations happen (gathering and teaching all together, culture and language). Listening also, being in touch with the land, our culture and our elders – it makes youth more CONNECTED.

Debbie House Cox
The examples provided so far show that education and learning is a collective responsibility that begets a collective engagement. With a focus on intergenerational knowledge transmission, the various initiatives are ultimately focusing on strengthening wellbeing and mending relationships in the community. Indeed, the discussions held over the two days underlined that schooling and learning are impacted by the overall quality of life of parents, families and the community; which in turn are a reflection of the community's history and the lived experiences of previous generations. As such, finding purpose and fostering a sense of belonging are essential elements for life-long learning.
'People need to know who we are, then we'll know where we're going'

This statement by Eric House illustrates some of discussions that were held during the first day. Participants underlined the impact of colonization, and especially the environmental impacts of the La Grande project on the ways in which Chisasibi Iiyuuch become disconnected from the land and thus from the culture. In thinking about what young people are presently learning in the schools, it become evident that the history of Chisasibi was essential to understand where the community stands today in terms of social relations and overall health of the people.
Eddie Pash touched on the many environmental changes that the community has had to grapple with, both in terms of loss of land, and also in terms of changing ecosystems and patterns of migration and behaviour of animals. For example the loss of eelgrass means that geese do not frequent the coast anymore, and as a consequence families whose territories are on the bay now have to travel long distances inland to hunt, thus incurring higher costs. Overtime, these changes also deter people to go on the land, they thus remain in the community and do not benefit from the everyday life in the bush, which is the source of miyuupimatisiuun.
I was trained by my dad, he brought me up. My parents showed me everything I know…by watching them, how they moved, how they did things.

Eddie Pash
Debbie, Larry and Eric shared their experience of moving during their childhood form Moose Factory to Fort George, and how the older siblings did not speak Cree because their parents insisted they learn English first so that they could "be like the mainstream and get somewhere". This initial disconnection from language and culture was nevertheless overcome by spending a lot of time with elders and family members on the land. Now, their children and grandchildren have learned iiyiyiuyimuwin and are connected to the culture, because as parents they understood that teaching and transfer of knowledge are responsibilities shared by the parents and the family.
Going through the education system, it has changed a lot. But we have started to lose the language because someone else is controlling the system and it hurts to see kids losing their language. There are multiple factors like technology, their background…it comes from the home. However, the school board should be there as well, to assist in different ways in order for this situation to be rectified.

Josie Cox
Instilling a strong cultural identity and fostering a sense of belonging and responsibility are therefore seen as foundational objectives of a culturally meaningful educational approach; an approach that is intimately linked to miyuupimatisiuun.
'It is all about relationships, everybody has a story' (Eric)

In this section we chose to highlight participants' personal experiences to underline how community members follow, sometimes, very different paths on their educational journeys, and how these personal stories when considered at a collective level teach us that a sense of belonging is built through loving and respectful relationships. The expertise of the participants showed that as educators and learners, they each had their own specific knowledge to share, knowledge that was built in relation to family, friends and role models throughout their lives. As some of the participants were members of an extended family, their reflections also revealed, as Eddie underlined at the beginning of the activity, the essential role of the family for intergenerational knowledge transfer and ensuring cultural continuity.
Flora, Beverly and Jordan shared their own post-secondary educational journeys, which often were fraught with the challenges of being away from their communities and families, and having to adjust to a system that did not always value nor included Indigenous ways of knowing. Nonetheless, for each of them, having a strong connection with Iiyihtuuwin (Cree culture) motivated them to persevere and upon graduation contribute to advancing the quality of life of their communities and nation.
It's complex teaching a young child. Often I see you don't have time to go back to reflect or to correct. I've been to many sessions learning about plants, medicines… These are essentials to our well-being. We have our own knowledge. The elders will gladly share what they know, but the government doesn't want to acknowledge that. A group of science teachers that came in. I asked why don't they want to teach Cree science? They told me they can't because it's not in terminology. I said go back to elders. Take the kids to the bush, teach them about plants, nature. Communicate with nature. This is what culture is about.

Josie Cox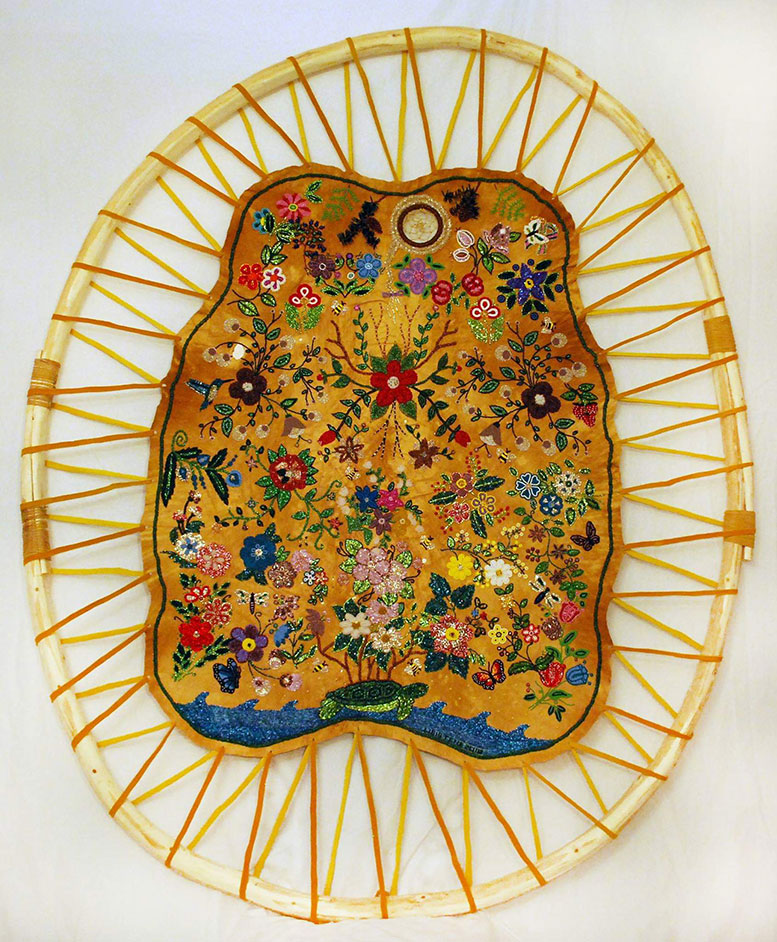 As Flora's parents lived on the land, her father interacted often with biologists, which often undervalued his ecological knowledge because "he doesn't have a paper stating that he has the knowledge". She chose a career in environmental planning so that "I can support him and speak to the scientists that come". To stay grounded during her studies, Flora took up beading, using the hide of the last caribou her dad hunted and using Cree and other beading designs to honour "all indigenous women across Canada", as well as in memory of her grandmother and all the women in her life.
For Beverly, protecting, preserving, and revitalizing iiyiyiuyimuwin and chischaayihtimuwin (Cree knowledge) has become an urgent and essential work to ensure cultural continuity for future generations. She works with community elders to document, archive, and conserve the history of Chisasibi and their knowledge of the community's ancestral territories. With a post-secondary education in Aboriginal Heritage, much of her work focuses on intergenerational knowledge mobilization locally, through a variety of activities and collaborations.
What really helped me is that I heard my grandmother who said that she did things naturally, as they came to her. Hearing that I thought: I could do anything I want, all the answers come from me and not from a book or from something written over there. And the education should reflect that (creativity), it should be reflective of our culture.

Beverly Cox

When Jordan was in his teens, the Rupert River, which drains into the bay at Waskaganish, was diverted. The subsequent development of the dam and the engineering works along the river although created jobs for the Cree, a certain inequality in terms of opportunities still existed in entrepreneurship in Eeyou Istchee. For Jordan, the sacrifice of a river should have also translated into an improvement in equity and capacity building for the Cree. After earning a diploma in Business Development, Jordan now focuses on supporting Cree entrepreneurship in Aboriginal communities as a way of achieving self-sufficiency and expertise in various fields.
I'm guilty of being too much of a city Indian lately and the land is calling me back. My parents were both teachers, so they were not in the traditional lifestyle either. My mom sent me to live with my grandparents in the bush…I realized now how lucky I was to have known glimpses of this kind of lifestyle. Eric (House) told me that we have a big job to do here. And that's basically what I'm trying to do. I like to compare entrepreneurship to how they used to do back in the days. Team up. You're responsible for your own well-being and you're not complaining to anybody.

Jordan Bear

Roy and Trevor work at the Recreation Department and run the Fitness Centre in the community. With a specialization in exercise science, they focus on supporting young people in Chisasibi in their professional development by hiring and training students at the Centre. They now have a full-time staff of 10 young people and an additional 10 part-time help. All the youth receive professional training in exercise science and are given a variety of responsibilities, such as running summer camps and sports teams. As Master trainer and former football athlete, Trevor focuses on building capacity and work ethics among young people; all their employees are under 30 and all have graduated high school.
We try to empower our youth and so they are then trained to work at the fitness centre. In reality, the youth run the programs. We give the mandate and the youth make it happen. The youth are hence working for their own peers. I am so proud of them. Our youth always arrive on time and are ready to put in the work. Even the ex-principal of the school couldn't believe it! If you encourage our youth and you empower them, respect them, they will respond positively. Respect is a two way street. Don't always expect for something to be done for you, do it yourself.

Roy Neacappo

Community health and promoting a healthy lifestyle are the core objectives of Roy's and Trevor's work. The Fitness Centre services approximately 100 members daily. Besides the sports camps in the summer, they also offer pre and post-natal program, a weight loss challenge, and a variety of physical activities for people who struggle with concomitant health issues, such as diabetes.
I feel that to have a healthy community, you need to have healthy people… We promote a healthy lifestyle (via the radio and Facebook) because a lot of people are conscious about that. We use technology to give people a picture of fitness level and discuss it with their doctor.

Trevor Allen Stewart
Miyuupimatisiuun: land, culture, health
One of the things that we learnt early on in our healing process was that in order to remain authentic, we needed to take it out of our institutions. When you talk about piiskuutamakuunipiijuu and that sled. We get to decide what is in that sled and where that sled is going. Not tomorrow but today. Because tomorrow comes on its own terms. And yesterday is gone.

Larry House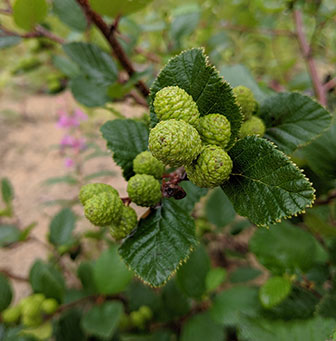 Miyuupimatisiuun roughly translates as 'being alive well'. It includes the essentials of surviving on the land (warmth, food, shelter), but also the strength of character necessary to face unpredictable and unsettling situations. From an Iiyuu perspective, the land/nature is a teacher that shares knowledge through the different elements of the environment – every interaction is a lesson in survival, a teaching that helps individuals transform throughout their lives. The heavy legacy of the colonial history in Eeyou Istchee has disconnected Iiyuuch from the land and from the values embedded in the relationships with it. The task of a culturally meaningful education is to restore these relationships by creating spaces conducive to intergenerational knowledge transfer.
As Eddie explained, breaking the trail is had work that requires perseverance, good planning, and foresight; but once the trail is laid out, many will find their way. And so, as Eric asks, what are we putting into that sleight we are dragging for the future of our little ones? If the sleigh is too heavy, the trailblazer will tire fast and maybe not reach the intended destination. If the sleigh is too light, the trail will not endure long enough for others to follow. The items in the sleigh need to be carefully considered, they must be useful for any situation, and distributed just so for a balanced load. Similarly, supportive learning environments in Chisasibi are created on the land, as Larry and Eddie have done with the Land-based healing program; through intergenerational culture workshops as those developed by the CHCC; and by building youth capacity to support healthy lifestyles for the community as the Fitness Centre continues to do.
Coming back to education that is part of learning and listening to who we are as people. We have vision, we have also the strength to make it happen. We have to think together, to make it happen.

Eric House
In all these examples and from the personal experiences shared, we learn that a culturally meaningful education needs to be first and foremost informed by chischaayihtimuwin (Cree knowledge), transmitted intergenerationally, supported by iiyiyiuyimuwin (Cree language), present as much as possible on the land, and conducive to miyuupimatisiuun. On the other hand, we also learnt that system change from the ground up is hard work that must overcome inflexible and often imposed policies and systems, heavy administrative and financial burdens, and constant uncertainty in terms of effective continuity. As Eddie underlined, not all young people are the same and it is up to knowledge holders to find ways to engage them in learning in a positive and exciting way. Therefore, building supportive learning environments means creating a range of opportunities that combine knowledge and skills and a multitude of learning styles and learning journeys.
References
Chisasibi Heritage and Cultural Centre (CHCC). 2020. Facebook Page and Department website.
Cree School Board (CSB). 2020. Eeyou Education Website (various sections).
Cree School Board (CSB). 2017. Inspiring Student Success: Annual Report 2016-2017.
Cree School Board (CSB). 2016. Annual Report 2015-2016.
Cree Nation Government (CNG). 2019. Bill-1 An Act respecting the Cree language of Eeyou Istchee.
Indigenous Services Canada (ISC). 2018. Registered Indian Population by Sex and Residence, 2018.
Lévesque C. and Polèse G. 2015. Une synthèse des connaissances sur la réussite et la persévérance scolaires des élèves autochtones au Québec et dans les autres provinces canadiennes. Cahier DIALOG no 2015-01. Rapport de recherche.
Nihtaauchin Chisasibi Center for Sustainability (NCCS). 2020. Elder's Camp Greenhouse Project.
Wapachee, C. 2017. Elders pass on Cree culture at Rites of Passage week in Chisasibi, CBC News North.